4,529 Views
Tiger Woods PGA Tour 10 for the Wii is the most complete golf video game ever created. EA once again called upon developer Tiburon for this game, who in turn used their experience from Tiger Woods PGA Tour 09 to create a refined and amazingly-complete package. From the solid My Career Mode that features 27 different courses to the deep Friend-Code-less online play this disc is busting at the seams. However, what makes this game truly unique is not the content, but the pack-in; Wii Motion Plus. The code masters at Tiburon really understood what Wii Motion Plus could do and crafted a control scheme around it that is only second to actually playing a round of golf.

First off, let's dive into the single player offerings. This game has two main modes for single player experiences. The first one is My Career, which challenges a player to create a character, apply stats and skills, and develop their character through the PGA Tour. This mode is extremely difficult and very long, neither of which are negative criticisms. It has plenty of content to explore, from Challenge Tournaments to the FedEx Cup, and many obstacles and challenges. Hardcore golf players and sport simulation junkies will love this mode, but thankfully, for the less proficient golfers out there we have a Play Now mode. This mode simply allows a single player or multiple players to pick a golfer and play and 18 hole round.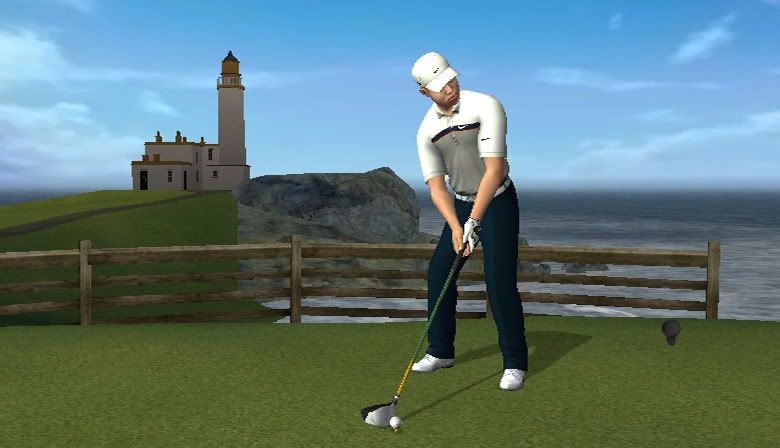 The single-player also has some customization features. The create-a-character feature is back from the 2009 edition. There is nothing special about this feature. It requires way too much user input, has far too many variables and possibilities, and the end results are disappointingly bland. But the game does have a customization feature that is great. That element is the Club Tuner. Thanks to the increased tracking ability of Wii Motion Plus, the Club Tuner is much improved over Tiger Woods PGA Tour 2009. This feature will become invaluable in the My Career mode.

Tiger Woods PGA Tour 10 has many multiplayer modes also. Play Now can be played with two to four players, but that's just the tip of the iceberg. The game also has many simulation based and arcade based multiplayer games. Golf Party has ten different mini games that can be enjoyed by a group of people, even by those who have no interest in golf. Then there is another mode called Game Modes which offers alternative scoring techniques used in real life golf matches. These include match play and best ball. Also included is a Putt Putt mode which is both challenging and fun.


One new mode for PGA Tour 10 is Disc Golf. This mode is only possible due to the Wii Motion Plus and is surprisingly fun. The idea of disc golf is the same as golf, with a Frisbee substituted for the club and ball. The Wii Motion Plus perfectly mimics your hand's motion in 3D space on all spatial axes' while the sensors native to the Wii Remote read the force and twists made during a disc toss. The result is an accurate reading of how the player tossed the disc. Combining the in-game physics and the Wii Motion Plus input results in a mode that is immersive and innovative. However, actual Disc Golf players may find it disappointing since it is fairly shallow. The only style of throwing available is a backhanded toss. There is no forehanded tossing or tomahawk throws. Also, small nuances that are important to real Disc Golf are not translated in to this Game Mode. Despite the short comings, Disc Golf is a very enjoyable mode and much welcomed addition to the game. Tiburon also made sure that this mode was complete by having all 27 courses available in My Career open for disc golf.
The most polished mode in this year's Tiger Woods PGA Tour is the online mode. Yeah, you heard that right, this Wii game has a great online component. The best decision EA made was to throw away the Friend Code nonsense. Well, that's not completely true, as you can use Friend Codes to locate Friends from your console, but honestly the EA Buddy system is much easier. Instead of Friend Codes, your EA Online credentials will be used - the same ones you have for any EA Sports title. Once inside the online mode you can choose to play Live Tournaments which are either daily, weekly, or against the Pros. Playing against the Pros simply tracks their stats and scores during a live tournament and asks you to play in similar conditions to best their scores. And when I say similar conditions, I really mean it since the Forecast Channel is utilized by the game to mimic current weather conditions. If a Live Tourney is not your thing then you can chose to play against another person in ranked and unranked matches. Using EA Online you can play against friends or anyone and it all works very smoothly. Tiburon also added an Instant Messenger feature and Friend search to make matchmaking easier. The only thing missing in this online game is Voice Chat, but then again golf is supposed to be a really quiet sport.

The game looks very average. It seems that the developer placed all their resources in making the content great and the control scheme perfect. Such a decision isn't bad, but it does leave some noticeable problems. First up are the jaggies. They are bad in this game as the anti-aliasing is pretty horrible. Sometimes the golf clubs are not even discernable during a round. The depth of field is also a problem, especially since this is a golf game. On the longer holes seeing your path to the green can become problematic. Another graphical faux pas I saw was the water, it is completely unanimated. Even when there is supposed to be rapids, it's just a freeze frame of water with white swirls. That kind of short cut would be embarrassing 10 years ago and is unforgivable in 2009. Other than these annoyances, the game looks fairly standard with really bright and vibrant shades of green and decent character models.


The sound is also just as mediocre as the graphics. There are no licensed musical tracks (that I heard) and the majority of it consists of typical relaxing techno. The voice acting is also of standard quality with nothing really standing out as special. The best use of sound in this game is as feedback through the Wii Remote when the ball is hit. It gives a very accurate response on how hard the ball was hit and at what point during the swing it was hit. This helps in adjusting and refining your swing.

Talking about your swing, that's really what this game is all about. I know I've rambled for over a thousand words about everything this game has to offer, but now let's discuss what makes this game unique. The first part of each swing is the set up. While setting up your swing, you can choose the club you want and the kind of swing you are looking for (such as: punch, full, flop). You will also be able to choose how you hit the ball and the angle you want it to fly in. Then by pressing 'A' you can line up your direction and target. Once you set up your shot it's time to let your swing do the work.

Tiger Woods PGA Tour 10 is not the first golf game on Wii to attempt an actual swing mechanic. In fact, Tiger Woods PGA Tour 09 had one, but unfortunately the original version of the Wii Remote just did not gather enough input information to make it complete. Now with Wii Motion Plus this is no longer a problem. At the beginning of each swing you point the Wii Remote down and press 'B.' This action calibrates the Wii Motion Plus as being 90 degrees pointed down. From this position the Wii Remote can be moved anywhere in 3D space and the corresponding golf club on-screen will follow in one to one fashion. Holding 'A' allows you to take practice swings and the game will let you know what the quality of your swing is. If your swing draws or fades, the HUD will display, with accurate precision, exactly how much draw or fade you had. The game will also judge the power of your swing which will translate to how far you hit the ball. This describes the standard golf swing design, but there is also a expert swing which requires more skill and an All Play setting which requires no skill.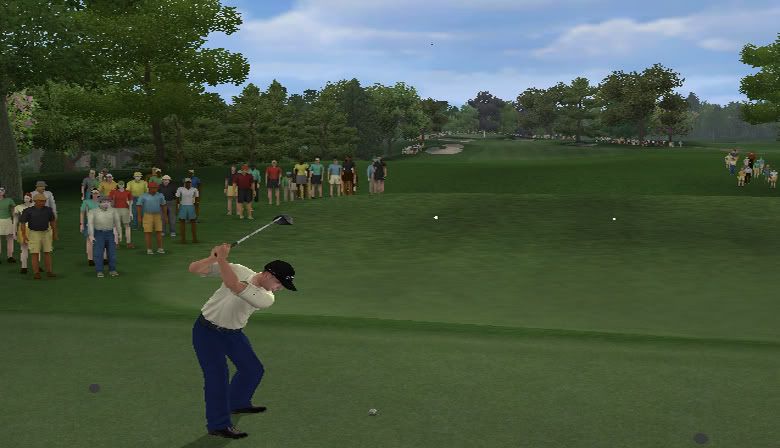 The putting also makes good use of the Wii Motion Plus. This year the putting system is completely revamped and goes under the name "Precision Putting." It is a much different beast than the classic putting style. The classic style fitted the player with a putter appropriate to the putting distance. If you were close to the hole you were given a close range putter and vice versa if you were at a longer distance. Also, the classic style only judged the power by the back swing. This year all that is thrown out the window. With Precision Putting, you are given the same putter whether you are 5 inches or 20 feet from the cup. Also, for the first time ever, the power of the putt is based on both back and forward swing, so your follow through now matters. This creates a very intriguing system that requires plenty of skill and even more finesse. It is more difficult to master, and for those who can't get it right, it is possible to revert back to the classic putting system.

The swinging mechanic in this game is perfect. The emulation that is possible with Wii Motion Plus really does exceed expectations. However, this is a two-edged sword as it can become a frustrating battle of skill instead of an enjoyable pastime. That may truly be the essence of golf in real life, but for a gamer that has never played golf or is terrible at golf, this super accurate control scheme can suck all the fun out of the game.

Tiger Woods PGA Tour 10 is undoubtedly the greatest golf game ever made. Not only does it have every possible game mode, both simulation and arcade, available, but it also feature the best control scheme ever designed for a golf game. The single player, multiplayer, and online mode will keep you occupied for months. Also, when you think about it this game is historical, because for the first time ever a third party developer showed us what Nintendo's next wacky innovation is capable of before Nintendo could.