1,840 Views
For the first time in almost 25 years, Kid Icarus finally returns.
First things first. 3D display on the 3DS made a believer out of me. I had to tweak the stereoscopic vision slider only slightly before getting a wonderful result. Literally full of wonder. I don't care who I have to stab; I'm getting one of these. Several of my misconceptions about 3D were quickly laid to rest. I didn't get a headache. I wasn't confused about what to look at. This new technology is easily accessible in a way that the use of stereoscopic glasses isn't.
Starting up Kid Icarus: Uprising, the user is asked to pick either a sword (a mid-range weapon), or claws (close-range weapon) or overcharge. I selected overcharge. Kid Icarus: Uprising handles wonderfully. Better in flight using the thumb stick than on the ground, but both systems seemed natural and a beginner like myself was able to er... dive right in to the game. The graphics of this game are nearly indistinguishable from those from their High-Def bretheren. It doesn't seem that amazing given the 2D screenshots, but this game must be seen and possibly even felt to be fully appreciated.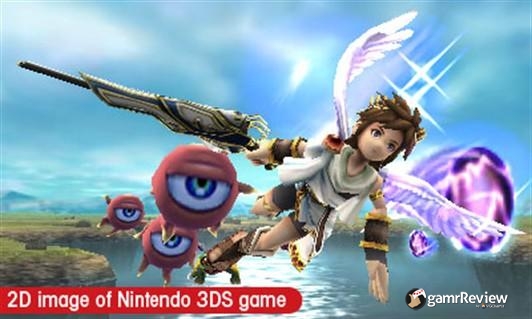 The level I played had me battling monsters flying in the air over my city. I controlled the Kid himself using the thumb stick and fired using the left shoulder button. Aiming the telescopic stylus against the upper screen allowed me to steer through the air. Bad guys exploded and I moved through the level. Holding the shoulder button provided a different firing mode from a quick press, almost like the difference between a missle and rapid fire gun mode on a jet.
Finally landing, I traveled among the winding streets of a small town. Flicking the stylus left or right allowed me to turn quickly. A more controlled movement allowed a more controlled turn. I was able to shoot at bad guys again with the left shoulder button and the thumb stick moved the character forward and backward. Running required a fast forward movement with the thumb stick which was honestly a little unwieldy. I felt like I had to stop, center on the bad guy, and then swing and attack. I'm sure this minor defect can be remedied by more than a minute's practice with the 3DS.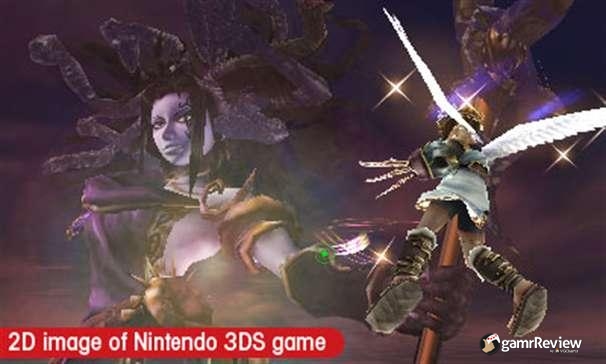 The pace of the game is slower than I'm used to on a major console game. It felt appropriate given the new controls and given that I was holding onto the 3DS itself. The game was (so far) glitch-free and had the production quality I'm used to from a Nintendo game. Being new to handheld gaming, I felt appropriately challenged and appropriately rewarded. In general I found Kid Icarus: Uprising a lot of fun to play. I wasn't honestly expecting that.