1,396 Views
As I was touring around Microsoft's stuffed booth at E3, one display in particular caught my attention. It was a single display unit from an independent developer, Twisted Pixel. The same people who made my favorite downloadable game of 2009, 'Splosion Man', had returned, and I knew I was in for a treat. Being ever so diligent on the show floor, I paid careful attention to jot down notes on every game I sampled. For this title I only wrote two words; two words that perfectly reflected my feelings: "pure awesome."
Comic Jumper has an unusual premise. It stars a comic book hero named Captain Smiley whose serial is in severe decline. In order to work his way back into the spotlight he gains the ability to jump to new comic universes. Each world is a fully realized comic book universe ranging from modern to manga (oh yea, you read that right; manga). Like 'Splosion Man this game has witty and sarcastic humor that will keep you entertained.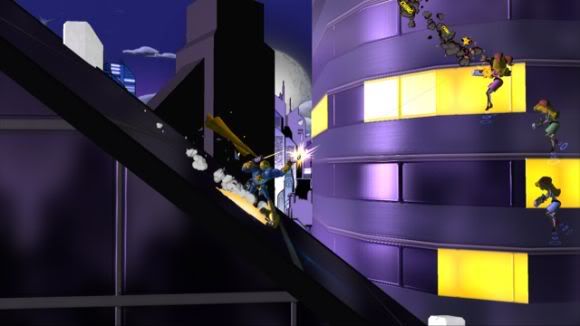 Hardcore fans of comic books, and casual ones, will appreciate the attention to detail Twisted Pixel shows. The animations and art in each world are carefully crafted to capture the appropriate feel of the source material. The story and tutorials are told by hilarious classic yellow boxes or perfect voice acting.
I had a chance to play a single level in the modern comic world. The gameplay is mostly side-scrolling brawling and shooting. The melee feels natural and I have been told that it will be tweaked to fit each comic universe. The shooting is also polished as you move with the left analog stick and shot with the right analog stick. In order to progress you will have to defeat enemies and move forward. The gameplay is classic, but at the same time has that unique feeling that Twisted Pixel is known for.
Your interaction with the enemies is also entertaining. And it's not just with the dialogue; the animations and moves Captain Smiley uses will have you grinning ear to ear. The stand out in my short demo is uppercutting a fembot into the air, grabbing her by her face, slamming her to the ground, and then using her to skate down a roof while shooting at other fembots. It's truly twisted.
There is no confirmed release date for Comic Jumper: The Adventures of Captain Smiley, but the Twisted Pixel representatives on the show floor expressed desire to have the game out by the end of the year. It will be available exclusively for XBLA. I recommend watching the video below, this game is a joy to play and I will be waiting on the edge of my seat for it.
Comic Jumper - E3 Trailer from SLACKCiRCUS on Vimeo.