895 Views
Much like a terminally ill patient is kept alive by wires and drugs, the Metal Gear franchise - a franchise that should have reached a fitting conclusion in 2008 - still lives on. It will certainly be a far cry from previous stealth-heavy titles, seeing as the main protagonist is Raiden.

Even though Metal Gear Rising: Revengeance isn't from the same franchise that fans hold so dearly to their hearts - it's a regular hack and slash game for starters - it has opened a door to a new angle on the Metal Gear franchise that some fans might like. As for me - a fan of the first and third Metal Gear Solid titles - I'm not too thrilled by the prospect of Revengeance. Raiden, to me, has always come across as a petulant whiner, and him attempting (once again) to be the enigmatic ninja who thinks he's got something on Gray Fox... well, he's got another thing coming. The reason people like Raiden eludes me; for lack of a better word he's an unbelievable feist, put in a ninja suit in a desperate attempt to turn him into a more likeable character. Raiden's like the track on an album no-one listens to; he's just there to fill in the space between real hits.


Very little has been released about the plot, possibly because it breaks away so heavily from the Metal Gear formula. All we know at present is that it takes place after Metal Gear Solid 4, and that Raiden has been contracted by PMCs to train armies and protect VIPs. So yes, it has the old PMC toilet paper stuck to its foot, but Revengeance does provide an opportunity to sneak away slightly from the series' traditional, convoluted storyline crutches. What we have seen in recent months has been very reminiscent of Devil May Cry. Yes, it looks impressive to sprint up the side of a sixty foot steel monster and slice the fudging thing in half, but it all looks slightly ridiculous seeing as it's built on the back of a serious franchise. Whilst the blade mechanics look impressive, the visuals seem very busy and arcade-like, and the bullet time system uninspired. The gravity-defying combat seems a tad over broad, though that's to be expected when you're combining sword wielding and future technology.

The art style is probably the only part of the old franchise that fans will recognise in Revengeance. The graphics look reminiscent of Metal Gear Solid 4, which is a little surprising considering the time gap. In fact, at times Rising has looked worse because of the motion blur that is created when Raiden runs and also (as I have said above) the controversial arcade art style. Nevertheless, there is still a huge amount we don't know about Metal Gear Rising: Revengeance and perhaps, when more information is revealed (especially regarding the plot), the game may shine in a more flattering light.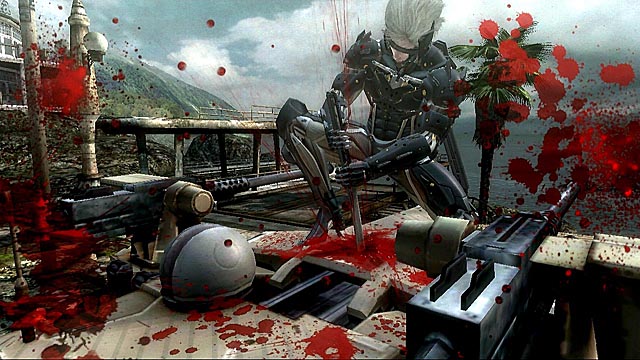 Metal Gear Rising: Revengeance is set for release in February 2013, on the Xbox 360 and PlayStation 3.